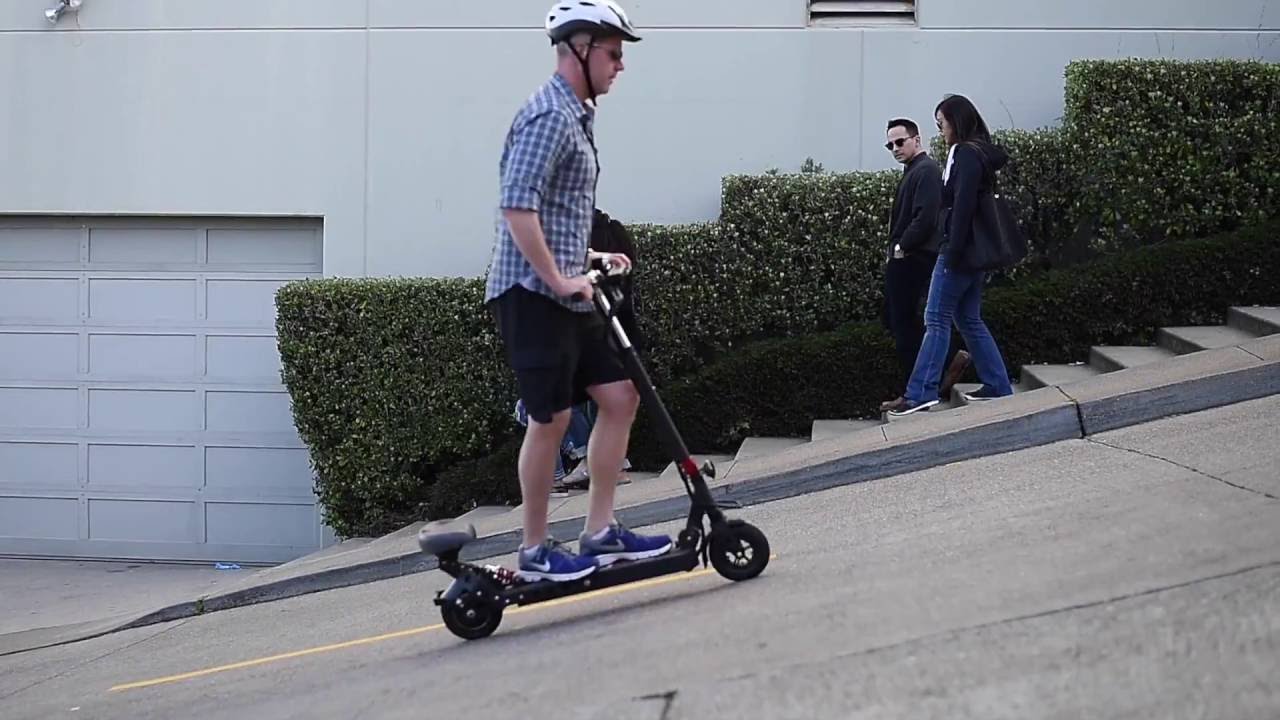 Best Electric Scooter For Climbing Hills in NZ
Best Electric Scooter for Climbing Hills in New Zealand
Electric scooters can be used for your daily commute or even as a recreational activity on the weekend. We've all seen them take cities by storm. Whatever purpose you're planning on using the electric scooter for—it's important to know which ones can handle hills if you come across any during your ride. At Storm Rides, we have the best electric scooters for climbing hills so it was only right that we made a list about them as well as some others that have caught our attention. 
Can Electric Scooters Climb Hills?
With steep hills around every corner of Auckland and Wellington an important question on everyone's mind is—can electric scooters climb hills? We have some good news for you. The answer is yes! But there are a few things to look out for when searching for the best electric scooter for climbing hills. 
Hill Climbing Power 
The ability to climb hills with an electric scooter all comes down to the power of the electric scooter. Power is measured in Watts (W). An electric scooter's power depends on the voltage and current being supplied to the motor. The more power your scooter has the better it is at climbing hills, acceleration and carrying the weight of the rider. 
Your Scooter Battery Matters for Climbing Hills
Riding electric scooters uphill also requires a bigger battery as this act drains power. Bigger battery packs have more capacity, measured in watt hours, and will let an electric scooter travel further. Battery size is determined by Amp hours (Ah). You can think of Ah as how much 'fuel' an electric scooter has. The higher the Ah the further you can go which also means more weight that the rider needs to account for.
E-Scooter Brakes Are Important For Safe Hill Riding 
The electric scooter also needs to have good brakes as you need stopping power going down just as you need grunt going up. The main types of brakes you'll see in electric scooters are disk brakes and drum brakes. Disc brakes are the best and safest type—they provide strong braking power in both wet and dry conditions. They are also lightweight, reliable, and easy to adjust.
Great, now that we've got all that out the way—here are the best electric scooters for climbing hills...
Mercane WideWheel Pro features high-powered 48V 500W motors, making it one of the best electric scooters for climbing hills. It offers excellent hill climbing torque and riding performance for demanding riding conditions. The WideWheel Pro was tested on the hills of San Francisco—this means it'll dominate the hills of Auckland and Wellington! One or two 48V 500W motors deliver up to 40km/h. Is it windy in here or is it just your mind getting blown? The 500W is also perfect for a casual electric scooter rider. Due to the extra wide wheel profile, the WideWheel Pro can provide better stability at low speeds and better traction overall. The WideWheel Pro has dual disc brakes that make it extremely efficient on braking, even on steep slopes. The 1000W Pro finished the hill climb test in 11.1 seconds, at an average speed of 20km/h. 
The Kaabo Mantis has  two powerful brushless 60V 1000W motors. It's known for delivering fun acceleration. It can easily climb up to 30% inclines, making it the best electric scooter for climbing hills. You also have the option to ride in single motor mode up to 48 km/h while conserving your battery or switch on the second motor for extra acceleration and 65 km/h top speed. Is that a bird? Is that a plane? That's you flying by! Don't worry, the dual semi-hydraulic disc brakes will provide you with full control on your ride. Take this electric scooter for a ride on grass or even dirt trails. It'll be right by your side enjoying the adventure. The Mantis completed the hill test in 9.2 seconds with an average speed of 24 km/h. 
So you've read about the Kaabo Mantis. Now it's time for the Kaabo Mantis Pro. This version brings even more to the table. Hungry? Well get ready because the Pro is here to eat up all the hills you serve it. The Pro is faster, more powerful and has better range. It has two powerful brushless 60V 1000W motors with upgraded fully-hydraulic brakes and Minimotors throttle. The Mantis Pro balances the ability to power up huge hills with the agility to corner and manoeuvre as required when avoiding moving obstacles. The Pro finished the hill climb test in 7.9 seconds with an average speed of 27.5 km/h. That's why it's one of the best electric scooters for climbing hills. 
Mantis Pro+ features 
Fingerprint reader to unlock scooter (Pro has a key)

Minimotors EY3 Smart Display (Pro has standard display)

Minimotors 27amp Controller (Pro has standard 25amp controller)
Just when you thought it couldn't get any better than the Kaabo Mantis Pro—think again. Described as one part motocross racer, one part electric scooter, one part mountain bike. The Kaabo Wolf Warrior is exactly that—a warrior. It's a high-speed electric scooter designed for the ultimate on or off-road experience. The two powerful brushless 1200W motors in combination with two 40A controllers means it delivers a peak output of 5400W. This means it can also climb up to 30% inclines with ease. Hills? You're joking right? That's not even a question for the Wolf Warrior. You'll be soaring uphill. In a hill climb test, it hit 40 km/h before running out of runway and completed the climb in 7.6 seconds—the fastest scooter they've ever tested. This is the best electric scooter for climbing hills. The full hydraulic brakes in combination with the optionally enabled ABS system also ensure you'll be safe when riding this beast.
The Kaabo Skywalker 10H comes with an 800W Rear Drive brushless motor and a 48V 15.6Ah battery. Since this scooter is 800w it isn't hugely powerful compared to the others on the list such as the Kaabo Mantis Pro or Kabbabo Wolf Warrior 11. However, it packs enough power for the casual commuter to tackle the average city hill on their commute. If you know a hill is particularly steep then it's best to check first before riding. This electric scooter is perfect to get you to work or even for fun rides on the weekends. It is the lightest out of the Kaabo range, folds in seconds and is easy to carry onto a train or bus. 
This one is not for the faint hearted. With a 2400W (2 x 1200W) motor, this electric scooter is very powerful. You'll need to be an experienced rider to get on one of these. Having two motors helps because it puts less strain on a single motor and divides the work which avoids excessive overheating. It also has powerful brakes that'll keep you safe. This electric scooter can climb inclines of 35 degrees. However, it may make a dent in your wallet compared to an electric scooter such as Kaabo Wolf Warrior 11 that also has a 2400W motor and can meet your requirements for less $$$.  
This is the largest and heaviest electric scooter on the list. With a 6720W motor, this electric scooter is a lot more than what most people need. It is one of the best electric scooters for climbing hills but the size and weight of the scooter (65kg) don't make it the most practical to use. An optional attachable seat makes this electric scooter more motorcycle-like than a stand-up scooter. The wide tires, suspension and steering damper of this scooter make it very stable—even at high speeds. Dualtron X  is also outrageously expensive compared to electric scooters such as the Kaabo Mantis Pro or Kaabo Wolf Warrior that work great for hill climbing purposes too. 
With its 2000W motor, this electric scooter has power, can cover distances and climb hills. The Zero 10X comes with a broad frame for comfort and suspension that allows you to tackle any urban terrain. However, it tries to be too many things at once. If you want a Beast then you should get the Kaabo Wolf Warrior. If you want something more refined and agile that still has power then go for the Kaabo Mantis Pro.  
This electric scooter comes with a 2000w (1000W x 2) motor. It can support a maximum inclination of 30 degrees, which is great for climbing hills. It's made for people who want quality suspension that can handle real terrain. The hydraulic disc brakes offer good stopping power, and combined with the electronic braking the overall stopping power is incredible. However, this is not available in New Zealand. 
Qiewa QPower comes with a 3200Watts (2x1600Watts) motor, which means it's ready for hills. It's also great for recreational trips and off-roading. Brake activation is smooth and double disk brakes ensure stable braking. It is also known to be of a lesser quality compared to premium scooters such as the Kaabo range. This scooter is not available in New Zealand, but good news the Kaabo range is! 
This scooter looks like a sculptural piece of art. With it's 3600W motor, it's great for climbing hills. The drum brakes are powerful and the tyres allow you to decelerate without losing traction. The thickness and construction quality of the tyres are on the same order as motor vehicle tyres. However, this is not available in New Zealand. 
Which electric scooter has the longest range? 
Out of this list, the electric scooter with the longest range includes; Kaabo Wolf Warrior—150km (ECO Mode) and the Dualtron X—149 km. 
Note: This is the ideal factory testing scenario. In the real world the range depends on factors such as the weight of the rider, how often you're climbing hills, how often you're using the scooter and whether you're stopping/starting frequently. 
Electric scooters for adults? 
All the scooters on this list are electric scooters for adults. In saying that they all have different weights, sizes and price points therefore make sure to do your research and try some out to find your perfect match. All these electric scooters are powerful machines, with instant torque response and high top speeds. Therefore matching the scooter you buy to your skill level and experience is important for your safety.
Best electric scooter in 2020?
The electric scooters available in New Zealand now are endless. This can make it difficult to find the best electric scooter for your purpose with the amount of options out there. We reviewed electric scooters and made a list of the best electric scooters in NZ to provide you with clarity and confidence. Our top three picks are; Kaabo Mantis Pro, Kaabo Skywalker and Mercane WideWheel Pro 1000W. 
So what's the best electric scooter for climbing hills?
Overall, the Kaabo Wolf Warrior, Kaabo Mantis Pro and Mercane Widewheel Pro 1000W are top picks. 
Get in touch with us at Storm Rides to check out and buy the best electric scooter for climbing hills. We have the best range for you to choose from. You can contact Andrew on 021 685 026, visit our store 8b Southgate Place, Henderson, Auckland (call first to make sure we're here) or order online now. Enjoy the ride! 
Note: We advise all of our customers to wear a helmet and gloves, and ride safely and considerately.  Please check the relevant laws for your intended use case. The content in this article is a guide only - when it comes to climbing hills with an electric scooter the weight and skills of the rider as well as the purpose you're using the scooter for also play a role.