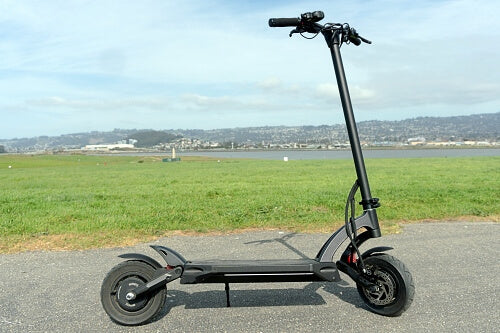 Best Electric Scooters NZ - Top 10 E Scooters - 2021
UPDATED: 15th January 2021
Upgraded, Updated, and Expanded for 2021
Top 10 Electric Scooter Review 2021 Contents:
1. Kaabo Mantis Pro
2.
 Kaabo Skywalker
3.
 Mercane WideWheel Pro
 1000w
4. Cruiser SG Fat Tyre 
5. Kaabo Wolf Warrior 11
6. Ninebot ES4 
7. Zero 10X
8. Mercane WideWheel Pro 500w
9. Inokim OX Super
10. Dualtron Ultra
All scooters from last years list (of 6) have stayed in apart from the Nano which was disqualified for being out of stock in NZ.  There are just too many good scooters in NZ now and they suit different types of use cases and budgets to we expanded the list to 10 for 2021. This year features stunning new models notably from the Kaabo range -which has been leading E Scooter Reviews / Buyers Guides around the world in 2020.   
Electric Scooters have hit NZ like a storm.  With the launch of Lime Scooters and Bird scooters as Sharing Programs in the USA - the general public was awakened to a new form of transport, the Personal Electric Vehicle.
People tested the Shared Scooters in their droves, but many have realised that with the combination of unlocking costs and pretty high per-minute charges these services are great for some, but for many, BUYING an electric scooter is the real answer. 
You can get the exact scooter for your needs and lifestyle, and keep it with you wherever you go. 
Equally at home, in the car boot or under your desk at work. Choosing your own electric scooter is the answer in NZ.
There are so many different electric kick scooters available in NZ that it can be hard to choose the best electric scooter for your use case - we are all different in weight and riding experience, not to mention the distances and frequency-of-use we intend our scooter to handle.
At this point, it is important to mention that we are not making any legal advice here. The laws in NZ regarding electric scooter riding is a bit of a mess as far as we can tell. NZTA says one thing, cops say another, and news outlets say something different again. Even when they are quoting NZTA spokespeople we saw totally different answers than when we approached the NZTA directly - so who is to know.
Anyway on to the fun stuff...
We have done the heavy lifting and reviewed a number of electric scooters ready to give you the skinny on the best.    
Best Electric Scooters NZ - Top 10 Electric Scooters 2021
- Comes as Mantis Base & Mantis Pro (Top Spec) models
The Mantis scooter is as awesome as its name suggests whether you go for the Mantis Pro model or the 'standard/base' model... not that there is anything standard about this beast!  
Hitting the scene in 2019 the Mantis immediately garnered the respect of the e scooter community.  The Pro is the scooter that all other e scooter makers aspire to make - but missed, Kaabo didn't miss - they smashed a bullseye!  
The Mantis Pro manages to balance the ability to power up huge hills with the agility to corner and manoeuvre in a manner required when avoiding the various obstacles moving and otherwise that a scooter rider has to deal with 
Power + Agility = Safety although this is one heck of a powerful beast, it has the balance that is really hard to achieve.  So often you get too much power, and it cannot be handled properly.  That is not an issue with the Mantis.
Note: there were originally 3 models Base, Pro, and Pro+, due to customer feedback and testing we have changed to stocking 2 models Base and Pro but the 'Pro' is the highest specced Mantis you can get - the best battery, the best brakes, the best everything - because this is STORM RIDES and that's how we do things. 
Hills are absolutely no problem for the Mantis
Top Speed - 65km p/h
Brakes - Full Hydraulic Twin Disk Brakes (These are custom STORM RIDES specifications, many parallel imported models have more basic cable brakes)
Price Tag - RRP $2,995 
Last Years Ranking - New Entrant!
Available here: Kaabo Mantis Pro
2. Kaabo Skywalker 10H Review

Behold the Skywalker, what an incredibly impressive scooter.  To be honest we were not sure about how good this one would be.  But it is now one of our best sellers and customers absolutely LOVE it.
The Skywalker is an absolute goldilocks of a scooter.
Not too fast, but not too slow; Not too big, but not too small; Not too heavy, but not too light; Not too powerful, but not too gutless; Not too expensive, but not too cheap... and on and on
This scooter hits the sweet spot across the board, it is perfect for everything from popping to the local shops to commuting, and has enough power for solid speeds and hill climbing whilst being geared to be a very easy rider suitable for inexperienced riders. 
For a lot of people this would be the #1 Electric Scooter, the Mantis beats it for us based on its sheer power and speed capability, but for many that isn't important, in which case the Skywalker would be top of the pops!   
Top Speed - 45km p/h
Brakes - Full Hydraulic Twin Disk Brakes (These are custom STORM RIDES specifications, many parallel imported models have more basic cable brakes)
Price Tag - RRP $1,795 
Last Years Ranking - New Entrant!
Available here: Kaabo Skywalker
What can we say about this epic creature? The WideWheel is simply everything you could want in an electric scooter and nothing you don't.   
Arriving in NZ just in July 2019, it is the latest arrival on the scene. What we love about the WideWheel is its perfect balance of the best features. It has 2 motor choices the 1000w dual motor and the 500w single motor (rear wheel).
The 1000w dual motor version is powerful enough that you can really feel the pull, it is an awesome sensation of acceleration all the way up to around 40km p/h (when max speed mode is unlocked). It comes standard with a 25kph limiter setting which is a great speed to learn on, and it will preserve battery.
While the 1000w is extremely powerful it never feels like it is trying to kill you, it is giving you the power you need, not like some of the 'over-powered' scooters like the Dualtron - which are actually just kind of ridiculous. The WW has exactly the power you need when you need it. The 500w is absolutely no slouch either and for a lot of people, it would be the perfect option.
Hill climbing is an absolute breeze, there is plenty of acceleration and speed to keep you safe - as we all know, next to being over-powered, being under-powered and slow is actually how you get into trouble - especially if you are negotiating with cars, which is very common in NZ.
How can we have gotten this far without talking about the wide wheels - the WideWheel is named as such because of its stunning, stable, sexy, wide wheels... Coupled with the dual suspension, the airless wide tyres offer a smooth ride and allow you to tackle almost any terrain. I threw everything I could at the thing, and I couldn't find a hill or off-road terrain it wouldn't simply destroy. Oh and did we mention NO MORE PUNCTURES! 
One of the main issues with scooters, especially with New Zealand's cracked pavements and potholed roads, is the crazy narrow wheels they all have - all of them - why on earth does every single scooter have these stupid narrow wheels.
It's like everyone who designs scooters starts with a pair of stupid tiny thin wheels and then designs around them - it is bloody ridiculous. 
Narrow tyres are basically the number 1 reason that most scooters suck to ride. Mercane has fixed this by strapping some epic wide airless tyres onto their creation and it only benefits from it.
The wide tyres not only make it safer they enable you to recreate an almost snowboarding like carving sensation when you ride - you really have to ride it to believe it.
In addition to all of this the WideWheel is stunning to look at, a cast aluminium alloy frame with a beautiful stingray like foot deck, again it is like nothing else out there.
It has the Power, it has the Looks, it is Safe, it is Unique - is there anything not to love about the WideWheel?
Well if we had to be picky, and we had to in order to find anything, there was one point to note. UPDATE - there USED to be a point to note... in 2019... but with the Wide Wheel Pro 2020 Model this has been rectified "the one button console on it requires a little getting used to... But we can sure live with that!" and we did live with it... quite happily... and now even that minor imperfection is goneburgers... This truly is the Ultimate Electric Scooter on the market today!
Top Speed - 40km p/h (25 km p/h when limiter is on) 
Brakes - High quality twin disk cable brakes
Price Tag - RRP $2,295 
Last Years Ranking - #1 (of 6)
Available here: WideWheel Pro 
Fat Tyre scooters landed with a smash into the scooter market in 2016. They are the big brother of everything else here and the little brother of iconic rides like the Harley Davidson. This is literally like nothing you have ever ridden.
The combination of an incredibly low centre of gravity and the super wide round shoulder tyres make the Cruiser S something out of this world to ride. 
Until you have ridden a Fat Tyre Cruiser you really won't get it. Now the Cruiser range is not just any old fat tyre. The build quality is fantastic, the batteries are high quality, the suspension - both front and rear - are well designed and highly effective, there is a whole range of accessories some of which were designed and manufactured in NZ.
The same factory that makes the STORM Cruiser S also makes the Phat Scooter which is dominating the fat tyre market in the USA. They are almost exactly the same except the STORM version has been up-specced significantly in that it is a lot faster, has an alarm and immobiliser, and rear indicators and tail/brake light. 
The Cruiser S gives you back whatever the heck you ask of it. A grandma can make a slow and stable ride up to the shops and back. Then her 20-something grandson can tear around like a madman throwing it into corners, and leaning it down so low that the stand might scrape the ground. Before heading off on a trail through the bush. Then upon return, his dad can take it down the hard packed sand on the beach to go fishing.
The Cruiser is somehow not just ' capable of',  or 'usable for' these widely varying use cases - it is somehow absolutely perfect for all of them.    
Top Speed - 40 kp/h
Brakes - Full Hydraulic Twin Disk Brakes (These are custom STORM RIDES specifications, many parallel imported models have more basic cable brakes, amongst a multitude of other downgrades)
Price Tag - $2,995
Last Years Ranking - #2 (of 6)
Available here: Cruiser SG Fat Tyre Scooter
5. Kaabo Wolf Warrior 11 Review
Holy Cr@p! What can you say, this monster has to be ridden to be believed, it just blows everything else away.
This is the dog nobody wants to see turn up to the fight, the looks, the power, the build quality, it is pure awesomess.
Kaabo Wolf Warrior won the title of World's Best Electric Scooter in the Official Electric Scooter Guide rankings.  We have it at #5 as for most users the size and power would be far too much, it clocks in at 50kg and goes over 80km/h - this thing is a vehicle - it is known as 'The SUV of E Scooters' for a reason
Check this bad boy out on YouTube and you will see it eat everything alive!   
Top Speed - 80-90km p/h
Brakes - Full Hydraulic Twin Disk Brakes (These are custom STORM RIDES specifications, many parallel imported models have more basic brakes)
Price Tag - RRP $4,495
Last Years Ranking - New Entrant!
Available here: Kaabo Wolf Warrior
6. Ninebot ES4 Review
Ok, so we are taking a big step down here from the Top 2 electric scooters here as far as looks, power, cool factor, fun, etc. But this little guy has a place right here in the top 3 all the same.
A lot of people just want an inexpensive, light, cheap, reliable scooter to literally go just up the road on, just to the local shop, and they want to be able to fold it up and carry it up a flight of stairs easily - and if those are your top priorities then this is a hot option for you.
Ninebot owns Segway and they make the e-scooters for a lot of the scooter share companies around the world - so this is a little mass-produced scooter. It doesn't pretend to be anything it isn't and for a lot of people, it will be just fine. You can also check out what Consumer thought here. 
On the downside... it sucks for hills... and Auckland and Wellington especially have a LOT of hills - so you may find yourself doing as much of the work as the scooter on even moderate inclines this type of low powered scooter quite quickly gives up and expects you to kick - so you may get to work or your meeting sweaty - not cool
Top Speed - 30km p/h on flat, otherwise as fast as you can kick it uphill :)
Price Tag - RRP $800
Last Years Ranking - #4 (of 6)
7. Zero 10X Review
Detail to follow shortly, these are a solid scooter, but at the same time for the price, there are better available - we wanted to get them into the chart but we have not written the content yet
The Big Problem for the Zero 10X is that it tries to be two different scooters.  If you want a Beast then you should get a Wolf Warrior, and if you want something more refined and agile whilst still being a powerful high-end scooter you should get a Mantis.   
Top Speed - 60 kp/h
Price Tag - RRP $2,899
Last Years Ranking - New Entrant!
8. Mercane WideWheel Pro 500w Single Motor Review 
This is the little brother (or sister) of the WideWheel Pro that ranked 1st last year and still a highly respectable 3rd in this year's chart - only difference is the 500w motor and slightly smaller battery.
The 500w is basically anything a casual scooter rider would want or need, 500w is enough to get to a respectable 35 kp/h and up most hills without any need for engaging 'manual kick assistance' :)   
Top Speed - 35 kp/h
Price Tag - RRP $1,795
Available here - WideWheel Pro 500w 
Last Years Ranking - New Entrant! (the 1000w was #1)
9. Inokim OX Super Review
The Inokim OX Super is one heck of a ride. An fast machine, you definitely do not want to just jump onto one of these bad boys and go flat out without some prior experience riding scooters.
Inokim is one of the most recognisable brands in the electric scooter world, well recognised for their attention to detail, build quality and power. The styling is not to everyone's liking as they go for bright garish colours and the end package is rather on the boxy side. Definitely has a 'functional' rather than 'cool' look to it.
With a 1000w motor, it has plenty of grunt and the 21ah battery will give you all the range you would need. Should be looking at a good 60km plus range, now we have seen them claim 100km plus range... always be careful of these factory range claims - it pays to cut them in half for real-world use. However, it is still very impressive.
Another downside other than the looks is the relatively low max rider weight - it is just 120kg - many people are over that so just be careful. 
So if you want a top brand scooter, that has power to spare, is well built, great range, and you are not really interested in having something that looks cool, and you don't weight too much - then the Inokim Super OX is a great option for you. 
The Big Problem for the Inokim OX Super is the Kaabo Mantis - the Mantis is faster, better looking, newer tech, cheaper price (model dependant), and you can choose from a range of specs Base/Pro/Pro+ depending on what you prefer. So the OX was a mean machine but has been surpassed by the Mantis.
Top Speed - 45km p/h
Price Tag - $2,899 
Last Years Ranking - #5 (of 6)
10. Dualtron Ultra Review
The Dualtron Ultra is what we would call a specialist scooter. It is so ridiculously powerful that you had better make sure you have worked up to this. Now yes I know we made this warning for the Inokim Super OX also - but this time we really really mean it. This is the kind of scooter that will eat you if you do not know what you are doing.
With a huge set of 2x 1200w motors, you are talking serious kick. Not for the faint of heart. If you have the skills (or the death wish) then this is a hell of a thrill.
The big drawback of this scooter that keeps it out of the top 3 (aside from the price) is that it is pretty damn ugly. This is not the kind of scooter that you can cruise up for a coffee without looking entirely out of place. This beast really is made for the enthusiast doing trails.
So yes we think this is a great scooter, a hell of a thrill, but the appeal of it is going to be very narrow as will the use cases as it is just so big and powerful it is pretty impractical most of the time 
The Big Problem for the Dualtron Ultra is the Kaabo Wolf Warrior - we just think of any reason why you would pay so much more for the old-style Ultra when you can have the world-beating Wolf!!  It was an awesome scooter for its time but it has been relegated to a has been.   
Top Speed - 75 kp/h 
Price Tag - RRP $5,000
Last Years Ranking - #6 (of 6)
Hey! Storm Rides - you have ranked your own scooters in the top e scooter list...
Yes, we bloody well have! You want to know why!?
Because we went out there and rode every damn electric scooter we could get our hands on.
We rode and analysed and tested scooters over and over again.
We wanted to come to market with scooters that were at the top of their respective classes.
Scooters that were perfect for people who wanted power, cool, style, capability, practicality. We wanted the perfect scooters for all the people out there who were being under-served by a range of electric scooters that were either
- too small, cheap, and gutless
- too powerful, ugly, impractical, and expensive
Those were the two main categories that scooters fell into. There was also some crossover of course - some were gutless and ugly, and some were expensive and gutless. 
BUT nobody was doing a positive crossover - how about powerful and good looking and reasonably priced... so we found the WideWheel
Both the WideWheel, the Cruiser S both lead their classes in quality, style, reliability - there is either nothing quite like them (WideWheel) or they are so far ahead of the 'competition' it is not even funny (Cruiser S).
So What is the Best Electric Scooter in NZ
Well, any of the Top 3 will be the 'best electric scooter' for you depending on your needs. You could by any two of the top 3 scooters and still have plenty of change compared to buying a Dualtron so if you look at it that way :) 
The best electric scooter is going to be different from kiwi to kiwi but we are pretty sure that the 3 we have listed at the top will cover off virtually all New Zealand E Scooter buyers, and the other 2 will take care of the speed-mad enthusiasts with cash to burn. 
So take a good look at the top 5 scooter list above and weigh up the recommendations, then contact some stores that sell them and take them for a test ride. It always pays to ride before you buy.
What Should an Electric Scooter Cost in NZ
As you can see from the electric scooter review above the range in prices can go from under $1,000 to getting close to $5,000.
Like most things it is not about price it is about value, what you need to look for is a scooter that does everything you need, and not too much that you don't. That way you will be paying only for what you will use.
That's why we felt the top 3 were the best options for price, amongst other factors, they were all a reasonable price - not too expensive, yet not 'cheap' which is when you need to worry about quality.
The Ninebot is relatively 'cheap' but the high production and small motor and battery mean that it doesn't cost much to make so it is ok for ' value'.
The WideWheel is an awesome example of value as you get plenty of motor and battery and power, but it doesn't go overboard and get you up into a crazy zone of dangerous power and ultra high price.
The Cruiser is fantastic bang for your buck, just look at the size of the thing, expensive parts, high cost of shipping due to its size, and it still comes in well under many of the others.    
Electric Scooter Buyers Guide / Last Words of Advice:
1. Always take a Test Ride - Or if you cannot then watch test rides/reviews on YouTube)
2. Value Matters - too cheap and you will regret it, and at the other end there is no point paying for what you don't need 
3. Finance Options - Some scooter shops/sites now have LayBuy deferred payment programs, QCard etc. - that can make it easier on your pocket
4. Warranty - make sure there is an NZ backed Warranty, and that electric scooter parts are stocked in New Zealand we get endless calls for parts for unsupported scooters sold by unscrupulous sellers   
NB: if you are buying a scooter as/for an adult then check out this article Electric Scooters for Adults NZ
Thanks!
Team STORM RIDES