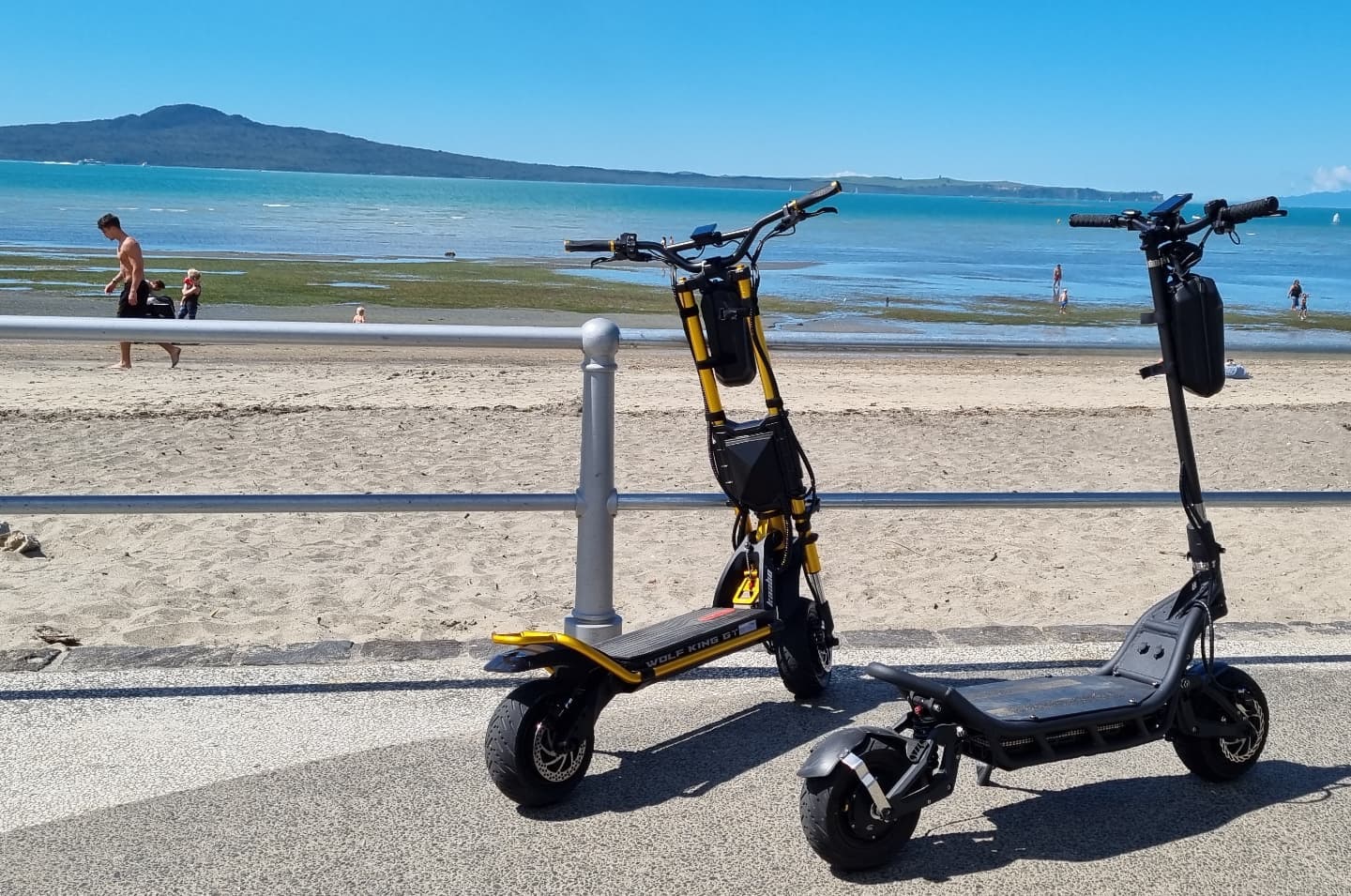 Beginner's Electric Scooter Guide: How to Buy an E-Scooter in NZ
Buying an electric scooter is bloody exciting. But, just don't let that adrenaline and anticipation lead to a rushed purchase.
Instead of jumping straight into the riding, give yourself enough time to do research (especially when there's a $1000-$5000 price tag on the line).
E-scooters come with countless features and fill the gap for numerous transportation needs. 
There's so many options available. Details like speed and load weight can be misleading if you aren't familiar with their meaning. 
No sweat,  this guide will help you understand the specifications of an electric scooter and what to look for.
Here's what this article covers,
2. BUDGET- WHAT IS THE BEST SCOOTER FOR YOUR MONEY?
4. THE RIGHT SCOOTER FOR YOUR NEEDS: BUYING FOR TRAVEL OR PLAY?
7. HOW POWERFUL IS YOUR E-SCOOTER?
OTHER FEATURES TO KEEP IN MIND WHEN CHOOSING AN ELECTRIC SCOOTER
1. Seat or no seat?
Seated scooters like this EMOVE ROADRUNNER comes with a large plush seat for comfortable commutes.
Scooters aren't all the L-shaped standing variety. Seated scooters can be more comfortable for long commutes or time spent waiting at lights.
These are an excellent choice for riders with limited personal mobility.
If seating is a priority for you, there are plenty of designs to take the weight off your feet.
Seated scooters come in various forms, from cycle-style models to kick scooters with a seat modification.
How do you put the seat on a e-scooter?
KAABO WOLF ELECTRIC SCOOTER SEAT
$299.00
For some e-scooters, like the Kaboo Wolf series, a seat can be bought separately and added to the standing scooter. This option gives great flexibility. The seat is attached to the scooter with four bolts. You can DIY or have your local Storm Rides dealer attach it for you. 
SHOP SEATED E SCOOTERS
2. Budget- 
What is the best scooter for your money?
Buying an e-scooter is a big investment and not one to skimp on.
At the same time, knowing what to look for gives you more power with the finances you have.
Here's what to consider when budgeting for your e-scooter.
Focus on value over price
Buying a cheap e-scooter and hoping for the best can be regrettable. Cheap scooters are annoying to maintain, and could even be unsafe. 
After all, electric scooters are used for fast travel in changing conditions. You don't want something going wrong while you're moving at speed!
Minimum quality has a price, but gives you a durable scooter and peace of mind.
Avoid any adult e-scooters priced under $1,000
While they might seem like a bargain, these scooters could be potentially dangerous.
Don't settle for any scooter that doesn't have basic safety assurance.
You will find that kids' scooters tend to come at a lower price. In any case, whether for children or adults, you need a scooter you can trust.
With this in mind, you don't have to pay top prices for a reasonable e-scooter.
You can find good scooters with great features in different price brackets. Higher costs will provide more options.
Which electric scooter is best in budget?
At $999 The Livall LS1  is the cheapest electric scooter and includes a FREE HELMET! Its the highest quality e scooter you can get for the lowest price in NZ. It's great for commuting as you can easily fold it while on the bus or train.
Electric Scooters Under $1,500

APOLLO AIR PRO
$1,199.00
SHOP NOW
Scooters between $1,000 and $1,500 vary widely in specifications. You don't have to sacrifice your main expectations as long as you know what they are.
Start by identifying the features that matter the most to you, whether speed, range, rider weight or more.
This way, you can find a good scooter that meets your top one or two priorities.
This is also the price range for kids' scooters.
Read our ultimate guide for cheap e-scooters under $1,500.
Electric Scooters Under $4,000
VSETT 9+
$2,399.00
SHOP NOW
The mid-price bracket from $1500- $4000 offers various combinations of styles and specifications.
It's the best range to start with if you want variety and the option to compare features. 
You might find a scooter that carries heavier loads, has excellent range and LED deck lights. 
From the lower end of the price range moving upward, you will see the scooters tick more boxes with funky extra features thrown in as well. 
Electric Scooters Over $4,000
The Nami Burn-E Max V2 has been voted the Best E-scooter in New Zealand and is one of the highest value scooters out there.
The scooters in this price range are the best of the best, bringing together power and versatility with additional features.
If you have a full checklist of priorities, these items won't disappoint. 
3. Rider weight and height

Getting a scooter that's appropriate for your weight is super important. For example, this beast of scooter - the Emove Roadrunner is suitable for riders on the heavier side as it has a Max Load of 200kg. 
Does weight matter for electric scooter?
Yes, it's important to find a scooter appropriate for your height and weight. This allows the scooter to function at its best for the individual rider. Scooters aren't usually adjustable, so you need to choose the best option for your weight from the outset.
How strict are weight limits on scooters?
Every scooter has a maximum load weight, and this can vary widely. Weight capacity may max out at anywhere between 50 kg (for children's scooters) and 200 kg. Every model of scooter comes with a weight restriction.
Scooters such as the Kaabo Skywalker and Kaabo Mantis can hold up to 120kg, whereas models like the Mercane WideWheel (Single and Dual Motor) can only withstand a maximum of 100kg.
Can a heavy person ride a scooter?
And if you're a bigger guy, with larger requirements, the Cruiser Fat Tyre Scooter can take up to 200kg. The Mercane WideWheel and the Cruiser Fat Tyre Scooter are also desirable options for heavier riders, due to their high-quality build.
Using materials such as metal alloy chassis (featured in the Mercane) and tube steel (featured the Cruiser), these scooters offer that extra bit of stability. 
Best e-scooters for boot and last mile
These scooters tend to be more portable, which could mean foldable and/or lightweight (scooter weight of under 23 kg).
They usually travel at lower speeds and are designed for going the extra distance rather than long treks.
SHOP E-SCOOTERS FOR BOOT & LAST MILE
Best e-scooters for commuting
E-scooters like the Kaabo Skywalker 10H, is great for commuting as its easy to fold and carry on the train or bus.
E-scooters for this purpose tend to be reasonably powerful and often run on double engines.
They are able to carry heavier loads, and may travel at high speeds.
SHOP E-SCOOTERS FOR FOR COMMUTING
Best e-scooters for power and performance
These beast scooters are tough and durable, with good suspension. They have powerful motors, good brakes and do well off-road.
SHOP E- SCOOTERS FOR POWER & PERFORMANCE
Best e-scooters for kids
E-scooters for children will be smaller and lighter than adult models. They are also cheaper, at closer to $1,000.
Children's scooters have a shorter range which may be expressed in minutes rather than km.
These models have lower speeds and sometimes the added feature of top speed control, which can be set by the parent.
SHOP E-SCOOTERS FOR KIDS
Here are some more types of electric scooters:
| | |
| --- | --- |
| The ultimate urban street rider. | |
| A city commuter who enjoys a long weekend ride.  | |
| A city commuter who enjoys a long weekend ride (with a more advanced display and controller).  | |
| An adrenaline rider ready for the ultimate on and off-road experience. | |
| A fun weekend cruiser or daily commuter. | (Single Motor) |
| A fun weekend cruiser or daily commuter (who has riding experience to handle additional power). | (Dual Motor) |
| A universal rider who wants the ultimate sitting or standing cruise with superb stability.  | |
5. How far you can travel
Range is about how far you can go before needing to recharge, which is no small consideration.
Since charging takes a minimum of several hours depending on the model, this will really affect the use you get from your scooter.
The fastest charging e-scooters take at least four to five hours to charge. For some scooters, a full recharge can take as long as seventeen hours.
What does an e-scooter's quoted range mean?
Range is usually tested in easy conditions with a rider of low weight on flat ground. This testing can be very different from real-world use, giving an optimistic figure.
Also note that varied riding conditions decrease range. These include;
Load weight

Surfaces like sand or grass

Uphill inclines

Stopping and starting
If you feel too limited, you might consider a scooter with a swappable battery so that you can extend your range on the go.
6. Your scooter's top speed
What is the maximum speed of electric scooter?
Advertised top speeds range from 12 km/h to 100 km/h. However, a scooter's quoted top speed is probably not what you will experience throughout your ride. There are real world factors that alter speed.
The advertised top speed is calculated from ideal testing conditions, such as a flat, even road. In reality, a scooter will slow down under a heavy load or when travelling uphill.
Additionally, you may need to reduce speed for safety under certain conditions.
For example, it would not be safe to travel at high speed in wet weather or on uneven terrain.
You are unlikely to travel at the suggested top speed for the duration of your journey.
Bear this in mind as you compare scooters, and plan your journeys accordingly.
Some scooters will have different speed modes, or gears, which allow you to manage power and speed.
Additionally, kids' scooters often allow for speed control, meaning that a parent can set a top speed to ensure the safety of the young rider.
7. How powerful is your e-scooter?
Every e-scooter comes with information on its motor type and power. However, power in watts is not always a straightforward measure for comparison.
The figure you are given may reflect continuous power, which is the total power available on a sustained basis.
On the other hand, it could refer to peak power, which is the maximum power a scooter can employ in a short time.
Peak power and real power can be very different, and it may be hard to tell which one has been given in the specifications for your model.
As a result, the power wattage can be helpful but should not be relied on to give a complete picture of a particular model. 
E-scooters can be equipped with one or two motors. Another reason not to put great store by advertised power is that this may be taken from combining the power of two unequal motors.
The number and placement of motors don't just affect power. Here is an overview of how motors impact your ride.
Single front motor
This is the cheapest design. It gives good traction, is compact, efficient and works well in wet conditions. A front motor is not as good for riding uphill.
Single rear motor
A rear motor is of moderate cost and tends to be safer. This design is particularly good for turns.
Two motors (front and rear)
These scooters are more powerful and have better weight distribution. The design also combines the best features of both front and rear placement, such as traction and turning ability. You can expect to pay higher prices for double motors. 
Other features to keep in mind when choosing an electric scooter
Besides the seven aspects above (seat, price, load, purpose, range, speed and power), there are plenty of other features to think about. Here are a few more points to look out for.
Scooter weight

This is separate from load weight. While load is about the rider, this specification is about the scooter itself.
A lighter scooter has more power going up hills than a heavier scooter with the same motor.
On the flipside, your scooter may be heavier because it has a more powerful motor.
Note that a lighter scooter is easier to carry, which might affect its portability.
Security
There are numerous ways to keep your scooter safe. Some scooters have the added security of a key lock.
You can also find models with built-in alarms and/or keyless ignition. Your scooter may come with a bonus cable lock.
Otherwise, you can buy a separate lock or alarm.
Removable or swappable battery
Your scooter may come with the option of removing the battery. This can be extremely helpful if you're worried about range.
Carrying a spare fully charged battery gives added assurance of reaching your destination without a problem.
The removable battery also gives more flexibility for charging.
It means you can hook up the battery without needing the whole scooter to be present.
You can also leave a battery at home charging while the e-scooter stays in use.
Turn signals
This is a feature you won't find on every scooter, but something you may want if you'll be scooting around busy traffic.
Your scooter may have one set of turn signals on the handlebars, or double sets on the front and back.

You're now on the way to choosing your electric scooter. There's a perfect scooter for you. You just have to find it.