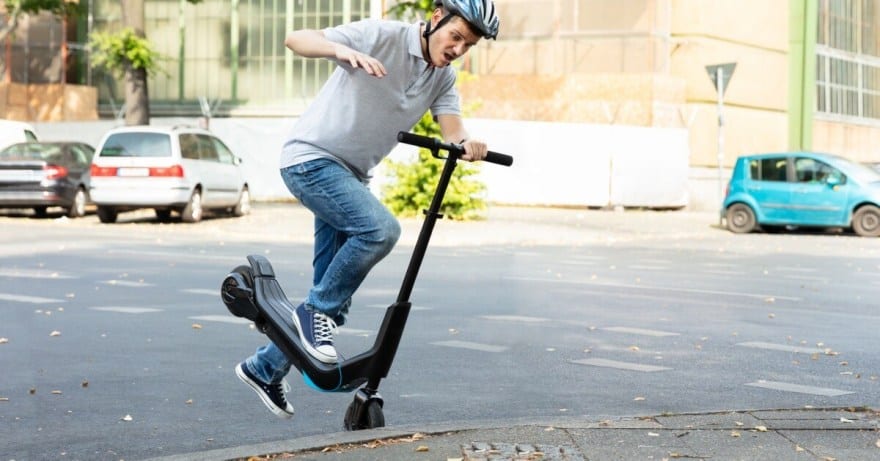 Beginners Ride Guide - How to Ride an Electric Scooter
Beginners Ride Guide - How to Ride an Electric Scooter
Electric scooters have taken the world by storm. Everywhere you look you can see someone whizzing past on an electric scooter. Some are using electric scooters as a way of commuting to work whereas others are using it as a recreational activity. Somehow everyone knows how to ride an electric scooter. How? Don't worry, you've come to the right place. It's never too late to learn how to ride an electric scooter. Whether you've just bought a new electric scooter or are curious about how to ride one, welcome to the club!
Here at Storm Rides, we've created the ultimate guide on how to ride an electric scooter. 
Safety First 
Before you start riding your electric scooter around town, make sure you have the correct safety gear. It only takes a few minutes to organise and you'll thank yourself in the long run. Since some electric scooters can reach around 60km/hr, you'll want to do your best to protect your head. Luckily, at Storm Rides we have some very stylish and high-tech helmet options just for you. From helmets with outstanding audio functions to brake warning lights, safety never looked so good! You can also grab some gloves to protect your hands from any unfortunate accidents. If you're looking to pimp your ride further here are 7 Must Have Electric Scooter Accessories. 
Get to Know your Electric Scooter 
Take some time to familiarise yourself with how your electric scooter works. 
Identify where things such as the accelerator, brakes and lights are

Check that the tyres are in good condition and inflated to the correct pressure 

Plan how long you are going to ride for and whether the battery is charged enough for your trip 

Figure out how the folding mechanisms on your electric scooter work

Read up on the difference in e-scooter IP ratings. 
If something doesn't look or sound right, look into it further and get it fixed before taking any risks by riding the scooter. If everything is functioning as it should be, it's time to ride! 
How to Ride an Electric Scooter 
Find an open and safe place 
If it's your first time riding an electric scooter, try take it to a place with minimal traffic and no hills. For example, an empty car park is a great option. This way you can focus on learning in a safe environment at your own pace. 
Raise the kickstand

                                                                                                          Before taking off, raise the kickstand under or beside the scooter. It will lean after this so be sure to hold on.
Kick start and stand
First, hold onto the handlebars. Starting to ride is as simple as putting one foot on the deck, kicking off and pushing down on the accelerator. For the best balance, you can place your non-dominant foot facing forward on the deck, kick off, lean forward and hold onto the handlebars with both hands. Once you are moving you can place your dominant foot on the deck behind your non-dominant foot. 
Accelerate using the throttle 
Different kinds of e-scooters will have different forms of throttles. If your scooter has different modes, set it to the slowest mode while you're learning how to ride your electric scooter. It is best to use a soft touch in the beginning to get the scooter moving. Remember to keep your weight forward when accelerating. Put your weight on your rear foot and use that foot to help your body lean forward. This will keep you from pulling on the handlebars. Once you start feeling stable, experiment with the throttle. 
Handlebars and turning 
When riding your electric scooter, turning the handlebars will cause your electric scooter to turn. Like the throttle, the movements should be slow and steady to keep the ride as smooth as possible. You may need to engage your core and adjust your weight to maintain balance. You should keep the handlebars mostly straight. Try to rely on shifting your weight and leaning to steer. Shifting your weight is important to keep the scooter upright. If you turn the handlebars too far you can cause the scooter to fall.
Braking to stop

 
Pull on the brake lever to slow the scooter and come to a stop. Be sure to pull it slowly as you can be thrown from the scooter if it is too abrupt. When braking, bend your knees and shift your weight back over your rear leg as though you are about to sit down. Never take your hands off the handlebars! 
Look ahead 
When riding your electric scooter, make sure to look straight ahead so you can see where you're going. This way you can identify any hazards coming up, and be ready to steer or brake accordingly. Each ride will have different conditions so be aware of your speed and adjust it to the conditions around you. Remember to enjoy your ride but also ride within your personal limits. 
Know the road rules 
Just like it's important to know the road rules when driving a car or riding a motorcycle, it's important to know the road rules associated with riding electric scooters as well. Each country and city has its own rules and regulations when it comes to electric scooters. Make sure to find out the specific rules for your area to avoid any issues. 
Once you get comfortable with these steps, riding your electric scooter will be like riding a bike! To make the most out of your e-scooter, you can also ask an experienced friend to help you learn and get on the right track. 
When you're ready to take your electric scooter adventures to the next level—check out our guides on the best places to ride an electric scooter in Auckland, Wellington and Christchurch. 

If you have questions about how to ride an electric scooter or are interested in buying an electric scooter, get in touch with us at Storm Rides. You can contact Andrew on 021 685 026, visit our store 29 C Taylors Road, Morningside, Auckland (call first to make sure we're here) or order online now.
Get riding!