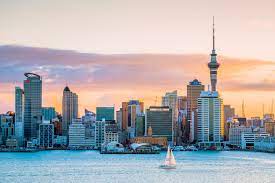 Best Places to Ride E Scooters in Auckland
Whether it's part of your daily commute or provides an exhilarating weekend activity, riding an electric scooter in Auckland is pretty epic! That said, it can sometimes take a while to get to know the scooter ins and outs—including the best places to go for a ride and your top local scooter dealers. 
So if you're wondering where exactly you can ride e-scooters in Auckland, check out our Auckland Electric Scooter Guide below that includes a list of cool spots in and around the city.
But, before we get into those locations, let's quickly go through the basics. We checked with the Auckland City Council to give you some answers to some common questions about e-scooter rules.
Auckland E-Scooter Guide (Contents):
FAQs on E-Scooter Rules in Auckland
Where can I legally ride an electric scooter in Auckland?
You can ride an electric scooter on footpaths, roadways and shared paths. Electric scooters with seats, like the ones here, can be ridden on cycle lanes and roads.
When you're riding on the footpath you need to,
be considerate of pedestrians and take care to not put them at any risk.

give way for pedestrians and those using mobility devices.

ride as per the speed limit- see limits on speed for e-scooters.

On roadways, you need to ride as close as practicable to the edge of the road.
Source: Auckland City Council
Do electric scooters need to be registered?
No - If your electric scooter wheels do not exceed 355mm and the motor has a maximum power output not exceeding 300W, it's considered by the NZ government as a low-powered vehicle. This means you can use it without registration.
Can I ride an electric scooter without a license?
Yes - if your scooter doesn't have wheels exceeding 355mm and a motor exceeding 300W maximum power output, you don't need to have a license to ride it
Do I need to wear a helmet on a scooter?
The short answer is no. According to the Auckland City Council, it is not a legal requirement to wear a helmet when you ride an electric scooter, but it is highly recommended you wear one for your safety.  
Check out the ultra-cool Livall Smart Helmet - BH51M that's currently on sale at Storm Rides.  
$189.00

Sale price $179.00                        
How fast can I go on an e-scooter?
A speed limit of 15km/h (about running speed) is recommended for escooters used on the footpath by the NZ Government. 

Got more questions about electric scooter laws? Check out our comprehensive guide here.
ELECTRIC SCOOTER LAWS IN NEW ZEALAND – THE INS, THE OUTS, AND THE IDIOCY
Basics sussed. Now…


Where Can You Ride E-Scooters In Auckland?
See the best places to ride electric scooters in
East Auckland

West Auckland

The Northshore

Central Auckland

South Auckland
Best places to ride e scooters in East Auckland 
Cascades Shared Path
Enjoy a 6km shared riding/walking path between Lloyd Elsmore Park and Meadowlands Park. Appreciate the fresh air as you glide down the smooth track surrounded by grass, trees, and neighbouring houses.
The Pakuranga Rotary Walkway
The 18km-return track makes for a fantastic ride along the Tāmaki Estuary and Wakaaranga Creek—offering fantastic scenes of Mt Wellington.
Best places to ride e scooters in South Auckland
Barry Curtis Park
The 1.8km loop is fully paved, providing a relatively smooth ride. The area is also filled with lush grass and a classic playground.
Conifer Grove
With a mix of terrain (including gravel, concrete, and boardwalks), scooters such as the Kaabo Wolf Warrior 11 are most suited for this 2km track. There are also a few slight inclines along the way, but nothing that your scooter can't handle!
Best places to ride e scooters in the North Shore
Te Ara Tahuna Estuary Cycleway and Walkway
Indulge in estuary views while riding along Orewa's conveniently wide, flat, and sealed pathway. As the track is well-loved by many, it can get pretty busy on the weekends. Remember to share with care and use your bell to give walkers a heads up before passing.
Onepoto Domain
Like Conifer Grove, the 1.6km loop at Onepoto Domain is a mix of boardwalks, gravel, and paved surfaces (again making it ideal for the Kaabo Wolf Warrior 11). You'll also find plenty of picnic tables and a playground—suitable for a family day out! 
Tuff Crater Reserve
Embed map from Auckland Council:
The varied terrain continues at Tuff Crater Reserve. Neighbouring the Warehouse Group Head Office, the track is 2.3km in length and offers some pretty good distant views of the city! 
Please click here to see the map
Takapuna to Devonport Path

The 12km track starts in the centre of Takapuna and heads down Lake Road, slowly making its way to the quaint local Devonport shops. 
Let the adventure continue into the city (via a 12-minute Ferry Ride), where you can zoom down Quay Street or head down to Wynyard Quarter.
Please click here to see the map
Best places to ride e scooters in Auckland Central
Wynyard Quarter
Leave your way around the bustling streets with the delightful temptations of countless waterfront eateries.
Tamaki Drive
The 8.2km Tamaki Drive offers another scenic (and desirably flat) city ride. Gliding your way from the CBD to Saint Heliers, there's plenty of opportunities to take in the sea breeze. 
Te Ara I Whiti/The Light Path - Part of the Nelson Street Cycleway
Identifiable by its vibrant pink path, Te Ara I Whiti is a must-visit in the city! The walkway makes up part of the Nelson Street Cycleway—so for an extended ride, you can continue down Nelson Street into the City Centre.
Cornwall Park
Get amongst nature at Epsom's Cornwall Park. If your scooter has enough power, you can continue riding up to the iconic One Tree Hill for a picturesque view of the city and surrounding areas. For more information about hill climbing, check out our article 'Best Electric Scooter for Climbing Hills in NZ'.
Grey Lynn to Waterview Path
Connecting Waterview to Mt Roskill, the Waterview Shared Path is made up of several cycleways around the area. You can follow the Te-Auaunga-Oakley Creek path (3.4km) to a charming 6metre waterfall—just be prepared for some mixed terrain. There are also options to connect with the Avondale Shared Path and Southwestern Pathway.
Parrs Park Path
A few laps around the 1.2 km loop track will have you feeling like a scooter whizz! And, if you're bringing the family along, there's an awesome park for some sliding and swinging.
Western Springs Park
The 1.75km loop track heads around the lake for some wholesome riding amongst the local ducks and geese. Despite the abundance of birds, the park also makes for a great picnic spot! 
Twin Streams Walk and Cycleway
The Twin Streams Walk and Cycleway allows for a lovely ride along the Waikumete, Opanuku, and Oratia streams. Plus, with its three-metre wide paths, there's adequate space for all users. There are also various community art installations and titled artwork that brings the area to life!
Northwestern Cycleway
Starting from Lincoln Road, this 12km cycleway meanders alongside State Highway 16 into the city centre. The majority of the path is separate from the main road, making it safe and convenient for riders.
Test Ride an Electric Scooter in Auckland
Storm Rides is your go-to destination for electric scooters, mini bikes, skateboards and accessories. You can shop our range of scooters right here online, and get it delivered to you in Auckland. We've got e-scooters to fit every size, budget and style.

If you'd like to arrange a time to visit our HQ or are keen for a yarn, please contact us on 0800 448 366 or email support@stormrides.nz
📍 STORM RIDES HQ
29C TAYLORS RD MORNINGSIDE
Ready, Set, Ride! 

We hope you're feeling better equipped with the knowledge to navigate the e-scooter life in Auckland. As mentioned above, if you have any questions, don't hesitate to get in touch!

You may also want to check out: