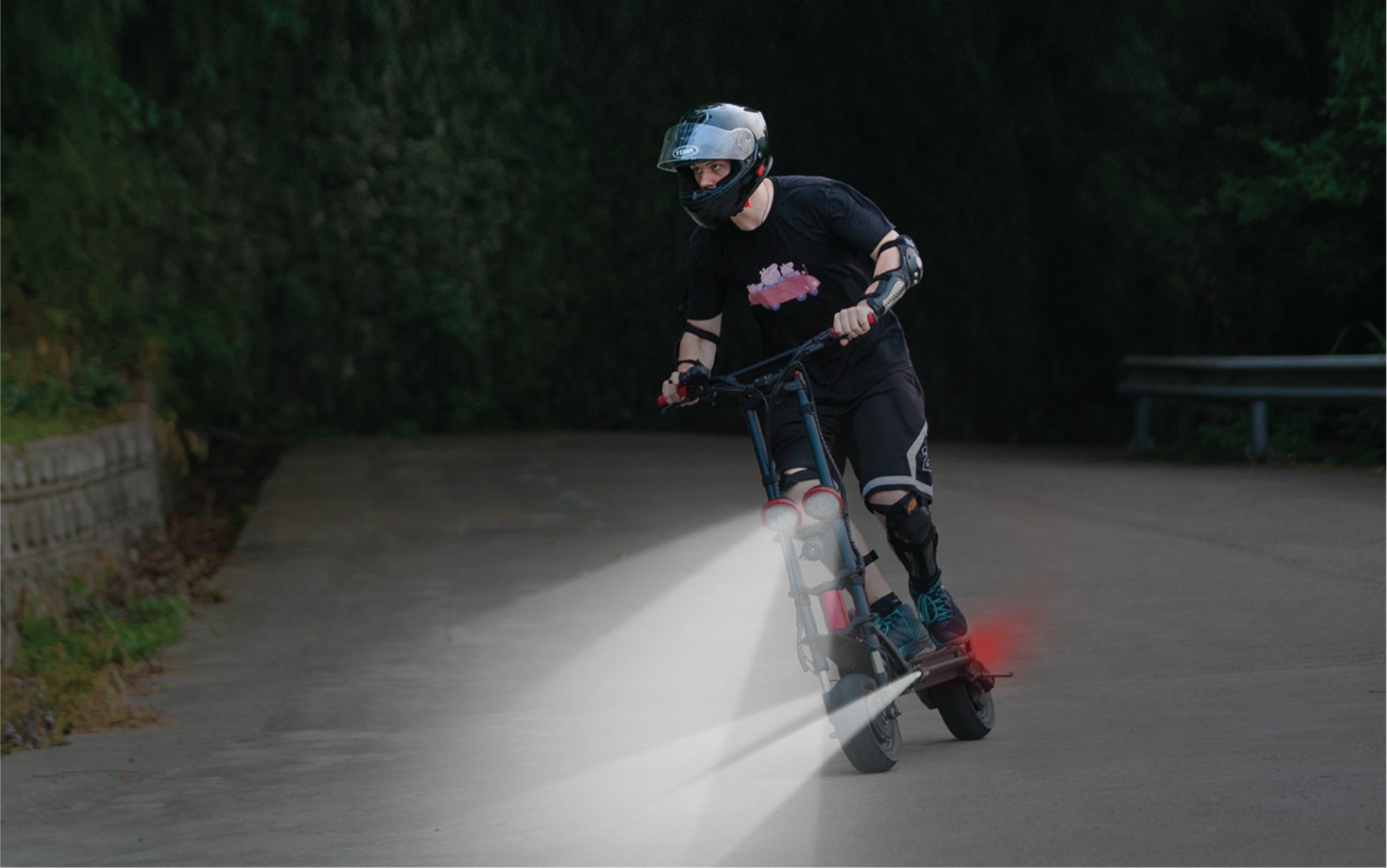 The Top 10 Benefits of an Electric Scooter
Electric scooters are a staple of urban life. You've seen them zipping down the bike lane or winding along walkways at the park. These handy personal transporters are undeniably popular.
Buying an e-scooter isn't a purchase to take lightly. You'll want to do your research and weigh up the options.
What this guide will cover,
Are electric scooters worth it?
10 Benefits of Electric Scooters
How are electric scooters good for your health?
Are electric scooters worth it?
Absolutely. If you value independence, convenience and fun, you should go for an electric scooter. Electric scooters are a cost-effective way of travelling and you never get stuck in traffic! You can save on public transport and fuel costs and pay off your e-scooter within 4-6 months on average.
What are the benefits of riding a scooter? Here are 10 reasons to join those in the know and buy an electric scooter.
1. E-scooters are fast
We're all busy and there are only so many hours in the day. An electric scooter gets you where you need to be faster than your feet can carry you.
The first key factor for speed is the scooter type. Scooters can move at a top speed of 12 to 100 km/h. 
These span from the child-friendly Razor Pocket Mod Petite to the super fast Nami Burn-e Viper, which is the number one scooter in New Zealand by our votes.
It's always important to travel at a safe speed for the conditions and environment, which is rarely the maximum speed.
Read about ELECTRIC SCOOTER LAWS IN NZ – THE INS, THE OUTS, AND THE IDIOCY 
However, even a slow and steady weave along the boulevard is faster than walking. For those with places to be, an e-scooter will get you there without raising a sweat.
2. Electric scooters are portable
Kick scooters are often foldable and can be carried with you on public transport or into the office. They're the perfect solution for transport on the go and work with easy storage.
Light scooters can also be transported in the car if you need a handy set of wheels to travel short distances after parking.
For recommendations on lightweight, folding e-scooters, check out the Vsett 9+ or the Kaabo Skywalker 10H.
If you're after a little extra luggage that gives you an instant fast ride, e-scooters are for you. 
3. Electric scooters are versatile
One reason for their popularity is that e-scooters are there when you need them and can cope with different environments around big cities. There are also varieties of scooters available for specific purposes.
It's important to know your e-scooter and be aware of its limitations. Once you know what to look for, you can assess every model to find the most suitable one for your needs.
RELATED GUIDE: HOW TO CHOOSE AN ELECTRIC SCOOTER?
If range is important, you can prioritise this to learn which scooter is best for long drives with one battery or carrying a spare. The Kaabo Wolf King GT Pro is a great choice with a range of 180 km on a single charge.
To find which scooter is best for daily use, you might browse all-rounder scooters or those preferred for commuting, depending on your everyday needs.
4. E-scooters come with varying specifications
Any rider can find the electric scooter that best suits their needs and lifestyle. There are so many options to choose from. 
Browsing for the right model is as easy as checking the boxes on your priorities with the Storm Rides search filter.
Electric scooters come with varying power, range and more. Besides these core aspects of a scooter, you can opt for useful extra features like key start ignition or deck lighting, like the stunning Vsett 8+.
You can also tailor your ride for you by selecting a scooter model with the right handlebar height and rider weight capacity for the individual rider.
5. Electric scooters are reliable
E-scooters are generally easy to maintain. Your scooter will keep performing if you buy a good model and keep it in shape.
We recommend carrying out regular checks on the tyres, brakes and battery. You can find more tips in this article on setting up, riding and maintaining your e-scooter. 
Correct maintenance will help you get the best from your scooter and avoid potential problems.
Just make sure you understand the limitations of your scooter, and don't skimp on your purchase. It's essential to start with a scooter you can trust.
View your initial purchase as an investment. If you pay the price for a good one, you won't be overpaying for repairs further along, or riding a dangerous scooter.
Shop Electric Scooters by Budget
E Scooters Under $1500 | E Scooters Under $3000 | E Scooters Under $4000
6. E-scooters are safe
Although widely misunderstood, e-scooters are actually quite safe to get around on, both for the riders and surrounding traffic.
The important thing is for you, the rider, to understand your scooter, be aware of your skill level and know the rules. Basically, use common sense.
This is no different from any other mode of transport, even though scooters get a bad rap for incidents caused by irresponsible behaviour.
If you ride at appropriate speeds, show consideration for others and take basic precautions like wearing a helmet, you are in safe hands. It's also key that you choose a safe and reliable scooter to ride.
Electric scooter speed limits and laws can differ from city to city in New Zealand. Check the laws for your city below.
There are also plenty of options for extra accessories like protective gear to help you stay safe on your ride.
7. E-scooters are affordable
Your scooter will save you costs on fuel, parking and public transport. It's priced lower than a car to buy, and is more cost-efficient in the long run. 
Besides the initial price of the scooter, you just need to pay for maintenance costs and the electricity for charging.
That being said, the initial cost of purchasing the scooter could determine ongoing expenses. 
If you try to get a bargain on an e-scooter under $1,000, you may end up paying dearly for repairs throughout its lifetime.
Even excellent quality electric scooters cost significantly less than a car or electric bike of similar quality.
Trustworthy e-scooter vendors understand that you need value for your money. 
That's why we help you filter your search for scooters in different price brackets, such as under $1,500 or under $3,000
8. E-scooters can be eco friendly
E-scooters are more efficient than a car used for the same trip. They also don't run on fossil fuels or contribute to emissions per use.
Like anything else, electric scooters aren't a perfect solution for the environment and they do leave a carbon footprint. This is particularly true about their manufacturing stage.
However, if your scooter takes a less efficient vehicle, like your car, off the road, that's a win for the environment.
For an even more environmentally friendly option, the Kaabo Wolf range includes an Eco mode for greater efficiency.
You can also have a better impact by making a smart purchase. A good quality scooter with a long-lasting battery is the most environmentally friendly option.
Not having to replace the scooter or its parts as frequently cuts down on waste and effects of the manufacturing process. 
9. Electric scooters are fun to ride
Your e-scooter can turn any journey into a recreational experience. It gets you out into the great outdoors and breathing the open air.
The best part is not having to exert yourself, so you can relax and enjoy the ride when exercise isn't on the cards or you're in your office clothes.
If you have somewhere to be, why not make the most of your journey? Combining their other advantages with the more enjoyable commute, scooters clearly come out on top.
For even more fun, you can find enjoyable variations on the scooter design, like the Razor Crazy Cart XL.
10. E-scooters keep you toned
Another reason to love e-scooters is for their surprising health benefits. You don't sweat on an electric scooter, but you still work out a few muscles. 
How are electric scooters good for your health?
Although it seems like you're just standing in one place, riding a scooter isn't the same as standing on solid ground. This particularly active way of standing forces you to engage your core and leg muscles for balance. Your muscles work to keep you stable and maintain an upright posture.
Remember planking? The scooter workout is nowhere near as intense or painful. However, like planking, it's not as easy as it looks and strengthens a few muscles that sometimes get left out.
There's so much to love about electric scooters. These top 10 benefits are just the start of it. Hop on our online catalogue and get moving to find out why e-scooters are just right for you.